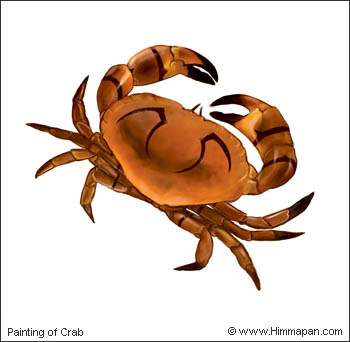 Crab is another creature that got mentioned quite often in tales and stories espeically ones that related to Lord Buddha. Perhaps, due to its already strange features; hard shell, big clumsy claws, and multiple legs, the creature's often not changed from its real physical form. In fact, in most legends, they are simply larger ones.

Buddha was once born as a great elephant living in Himmapan forest near a pond. This pond's called "Nong Pu" or Crab Pond because the pond is dwelled by a giant crab. This immense crab would slay and eat elephants that come in to the pond for a bath. The great elephant eventually defeat the crab by stumping onto the crab's hard shell. Only the 2 large claws of the crab remain. These 2 claws were floated from this pond. One of the claw was sent to a king which he made a long drum out of it.

The other one was picked up by the race of giant which they used to create a large war drum. Many years pasted, the giants lost the long war against lord Indra. Lord Indra took this drum away from the giants and kept in the heaven called "Dow Dueng". From this legend, it's believed that the tremorous sound from thunder's the result of this war drum.