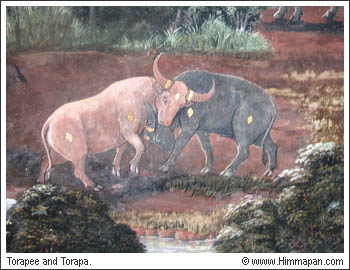 There was a giant name "Nontakal" whose task was to guard the gates of heavenly palace of Lord Shiva (Krai Lat mountain). He disobeyed his order and was trying to take advantage of an angel name "Malee". The angel reported his mishap to Lord Shiva. The god was so angry and cursed the giant to be born as a buffalo named "Torapa" and to be killed by the hands of his very son named "Torapee". Then and only then his curse will be lifted.

When the giant was born as a buffalo, he had many wives. He'd kill every unborn male calves. One of his wives, however, ran away and deliver her child elsewhere. The calf was raised by an angel. The angle named the calf "Torapee". Torapee would match his hoof size against his father's everyday. Until the day his hoof prints are about the same size then he went to challenge and kill his father.

In Thai proverb, the word "Torapee" refers to those who are ungrateful to their parents.