Where in Physical World is Himmapan Forest?
---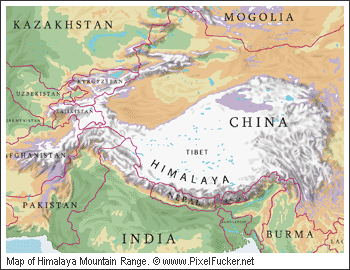 Himalaya is a mountain system in Asia, comprising a series of parallel and converging ranges and forming the highest mountain region in the world. More than 30 peaks of the Himalayas rise to heights of 7,620 m (25,000 ft) or more, and one of these, Mount Everest (8,848 m or 29,029 ft), is the world's highest mountain.

The average width of the Himalaya is about 200 kilometers. The range runs east to west up to central Nepal and then takes a southeast to northwest direction. The Hindu Kush-Himalaya mountain chain extends over 3,500 km in multiple countries of Afghanistan, Pakistan, China, India, Nepal, Bhutan, Bangladesh and Myanmar (Burma).
The climate in Himalayas is quite unpredictable. The Himalayan Alpine climate varies according to the elevation. It gets colder as the elevation increases and gets wetter as the elevation drops.