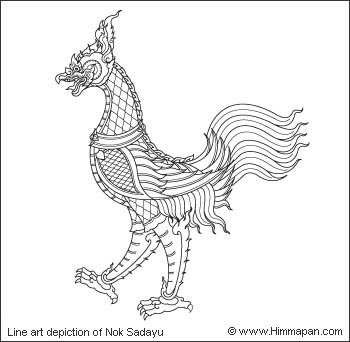 Sadayu is a large bird in the epic tale of Ramayana (Ramakien). He's a son of Garuda and a brother to another great bird, Nok Sumpatee. The bird played an important role in the story as it's a great allie to the kingdom of Ayotthaya and prince Rama.

In the tale, Sadayu is a large bird with greenish body color. One day he witnesses Tossakan (Ravana, the main villian in the story) kidnapping Sida (Sita), the wife of prince Rama. The courageous bird intervened and fought bravely with the giant. The giant was unable to defeat the bird. Sadayu madea mistake by accidentally told the giant that he's afraid of nothing besides Lord Shiva, Lord Vishnu, and the great ring which Sita's wearing.

The giant heard that and realized the bird's weakness, he immediately slipped the ring out of Sita's finger and threw it at Sadayu. One of Sadayu's wings was broken due to the giant's action. The giant then took Sida away.

Defeated, the bird carried the ring and went to report the incident to prince Rama before he passed away.