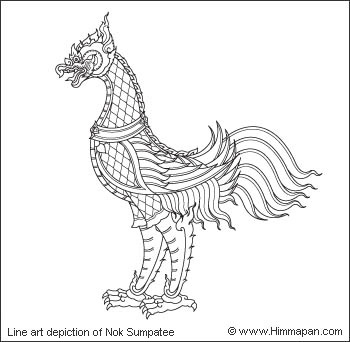 Sumpatee is a son of Garuda and older brother to Nok Sadayu. Similar in physical appearace as Sadayu only his color is red instead of green. Sumpatee is the bird of selflessness because of his brave act.

The story happened when Sumpatee and his younger brother, Sadayu, were living in Ussakan mountain. Being young and innocent, Sadayu mistaken the brightly lid Sun for a fruit and tried to eat. The god Sun was furious at the bird and tried to burn the bird by expanding his lethal rays. Sumpatee saw his younger brother's being punished by the god. He then used himself as a shield to protect his brother from the piercing rays. The heat of the rays caused his feathers to fall.

Remained angry, the Sun God cursed Sumpatee to remain featherless and to stay at Hemarantee Cave. Only the day prince Rama's army brought the great ring to Lady Sida, the curse would be lifted.