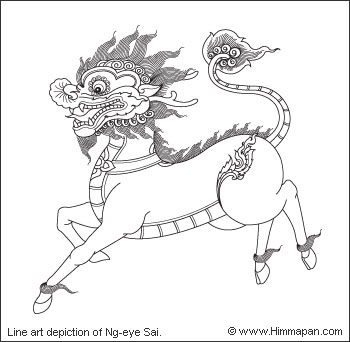 Ng-eye Sai is a strange name for a Himapan creature. In fact, the author's been researching and has no answer why it's named Ng-eye Sai.

Some say Ng-eye Sai has the head like a lion only Ng-eye Sai has 2 additional horns growing from the forehead, some believe it has a head of a Ghilen (Kirin). From the neck downward, Ng-eye Sai has features of a horse and bluish in colour. Carnivorous in nature, a Ng-eye Sai generally hunts for small and large animals, including humans.

Ng-eye Sai is sometimes confused with Durong Kraisorn as Durong Kraisorn also has the body of a horse and the head of a lion. What Durong Kraisorn lacks is the horns.