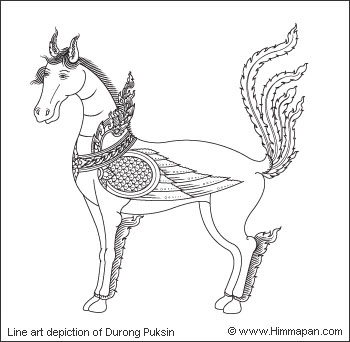 Old tales describe a Durong Puksin as a winged horse of pure white body with greenish bird tail. The color of mane and hoof appear entirely black.

The name Durong Puksin is a combination from 2 words; Durong(one of the 4 types of horse) and Puksin(bird). Like normal horses, Durong Puksins are herbivorous and social animals. Additionally they are peace loving creatures. Durong Puksins are often mistaken for another Himapan animals, Ma Peeks. Although both are winged horses, a Ma Peek has tail of a regular horse.

It's worth mentioning that the 2 creatures are strikingly similar in appearance as Pegasus, a Greek monster.